Hi all, here is a Chocolate Caramel Bûche for your Christmas dinner.
There is a layer of dark chocolate mousse, a layer of milk chocolate caramel mousse and a caramel ganache.
Have a lovely Christmas and all the best for 2019 ! 🎉☃️❄️🎅
You can use any bûche mold you want, I used the Pavoni Sublime Mold for this one.
Made with Cook Expert Magimix.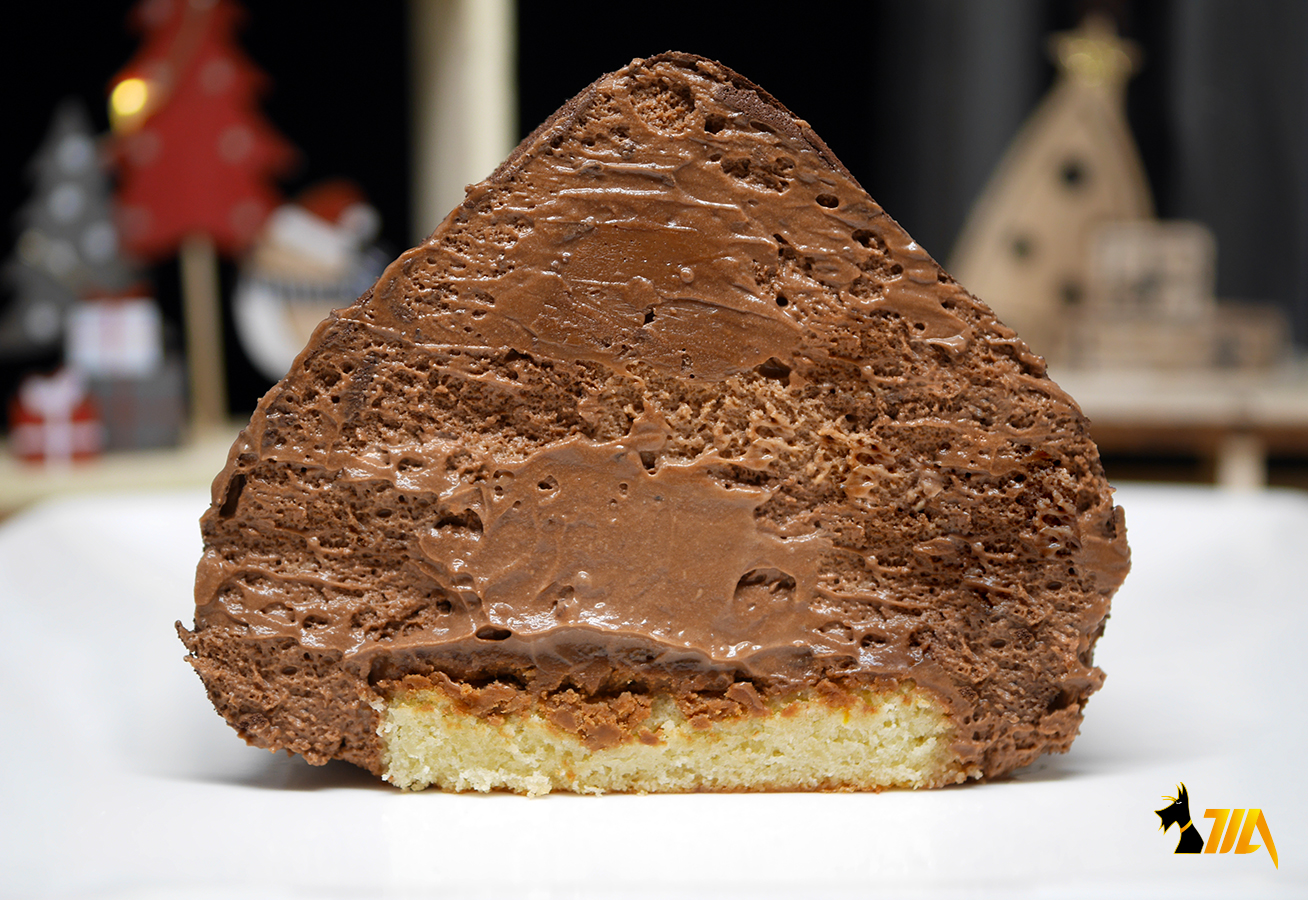 WHIPPED CREAM

400 g semi thick whole cream 30% fat
50 g icing sugar
Place the stainless steel bowl and whisk of your stand mixer in the fridge for 30 min
Place the semi thick whole cream in the freezer for 5 min
Pour the semi thick whole cream into the stainless steel bowl
Turn to maximum speed and whip for 3 min
Add the icing sugar
Turn to maximum speed and whip until ready
Set aside in the fridge
FINANCIER BISCUIT

10 g almond powder
10 g flour
20 g sugar
1 teaspoon honey
15 g butter
1 egg white
Tangerine zest
Preheat the oven to 170°C
Melt the butter in a saucepan until you get a nice hazelnut color
Remove from heat and set aside
Put half of the egg white in the mini plastic bowl of the Cook Expert
Run ROBOT / 1 min 30
Reserve the whisked egg whites aside
Put the almond powder, flour, honey, sugar and remaining egg white in a bowl and mix altogether
Add melted butter, tangerine zest and the whisked egg whites
Mix everything
Pour the mixture into a 5 * 20cm mold
(Since I did not have one, I made it with parchment paper)
Bake for 7 min at 170°C
CRUNCHY PRALINE

50 g praline
25 g chocolate Barry Ghana (Or caramel chocolate)
30 g crumbled gavotte
Tangerine zest
Melt everything in a saucepan
When the financier biscuit is ready
Cut it into the size of your mold
Spread a thin layer of praline on the biscuit
Set aside

DARK CHOCOLATE MOUSSE
3 g gelatin powder
135 g milk
170 g dark chocolate 70%
300 g whipped cream
Rehydrate gelatin with 3 times its weight in cold water
Put the milk and dark chocolate into the Cook Expert stainless steel bowl
Run EXPERT / 7 min / SPEED 4 / 50°C
Add gelatin
Run EXPERT / 2 min / SPEED 5 / 0 ° C
Let it cool for 10 min
Gently fold the whipped cream with the chocolate
Spread a 2/3cm layer of dark chocolate mousse in the mold
Put the rest of mousse in a piping bag
Set aside
CARAMEL GANACHE

25 g sugar
5 g glucose
30 g whipping cream
60 g chocolate Barry Ghana (or Caramel chocolate)
Put the sugar and the glucose in the Cook Expert stainless steel bowl
Run BROWN / 7 min / Auto / 160°C
Add the cream
Run EXPERT / 3 min / SPEED 3 / 100°C
Add Ghana chocolate
Run EXPERT / 2 min / SPEED 5 / 0°C
Run EXPERT / 30 sec / SPEED 11 / 0°C
Put the caramel ganache in a piping bag with a 10 mm round tip
Pipe a strip of caramel ganache over the dark chocolate mousse in the mold
Set aside
CHOCOLATE GHANA CARAMEL MOUSSE

1 g gelatin powder
55 g milk
120 g chocolate Barry Ghana (or caramel chocolate)
Rehydrate gelatin with 3 times its weight in cold water
Put the milk and chocolate Barry Ghana in the Cook Expert stainless steel bowl
Run EXPERT / 7 min / SPEED 4 / 50°C
Add gelatin
Run EXPERT / 2 min / SPEED 5 / 0°C
Let it cool 10 min
Gently fold the whipped cream with the chocolate
Transfer the chocolate Ghana caramel mousse in a piping bag
Pipe two strips of dark chocolate mousse on both sides up to 5 mm from the top of the mold
Poach the chocolate Ghana caramel mousse in the center up to 5 mm from the top of the mold
Put the financier biscuit on the chocolate mousse
Press lightly on it, it is necessary that the base is at the height of the mold, add more chocolate mousse on the sides if necessary and smooth the top with a spatula
Put in the freezer overnight
ASSEMBLE
Brown velvet spray
Take out the bûche mold from the freezer
Unmold the bûche on a plate
Spray the bûche on all side with the velvet spray
You should do this outside the house, otherwise it will scatter everywhere...
Leave the bûche in the refrigerator for 6 hours before serving