Chicken satay & peanut sauce... one of the greatest dish of Thaïland...
Bangkok is known as the best city for street food and satay is just one of the many reasons why... You should try this recipe asap.
Made with the Cook Expert Magimix.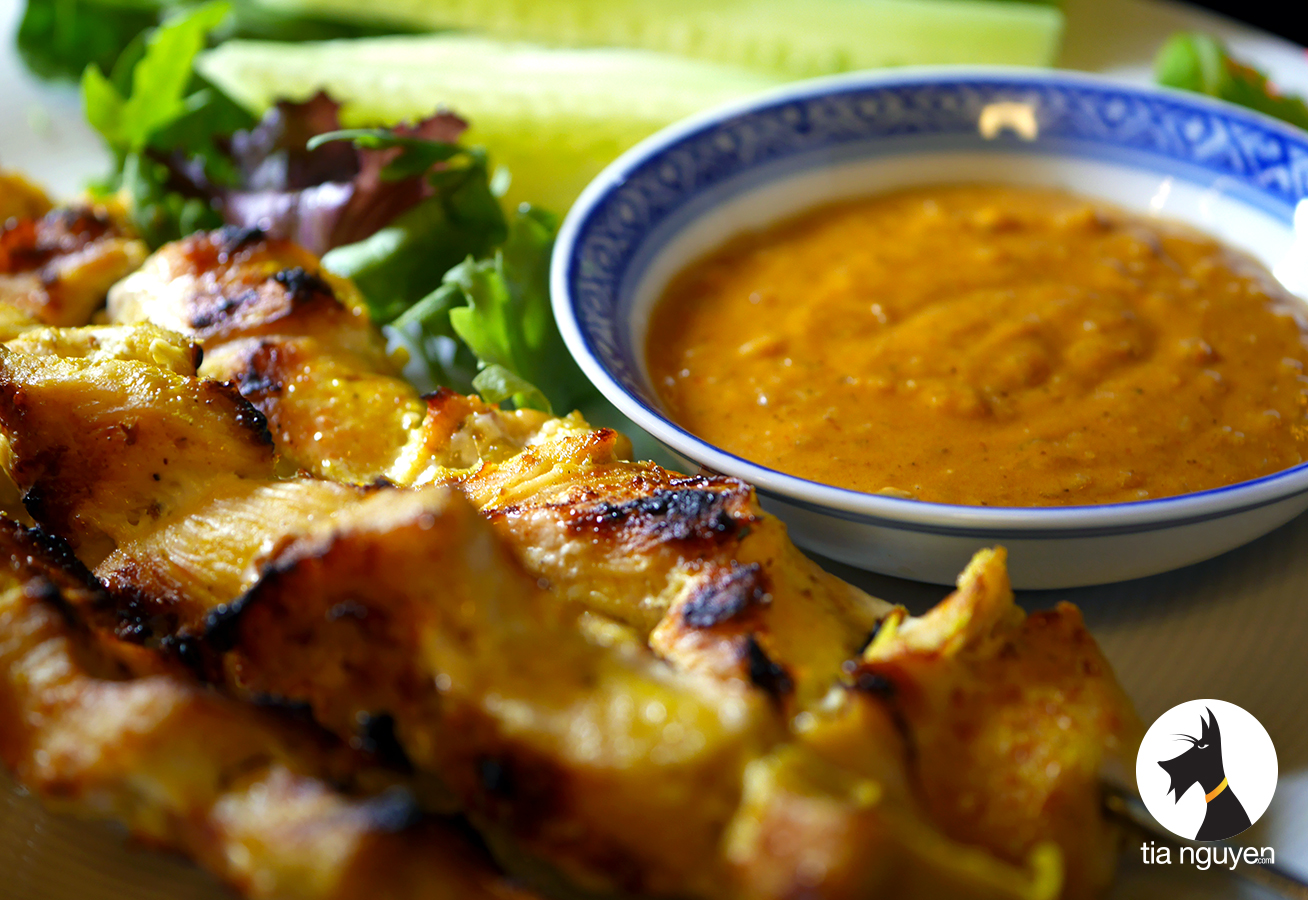 MARINADE
1 teaspoon coriander powder
½ teaspoon cumin powder
¼ teaspoon white pepper
½ teaspoon turmeric powder
½ teaspoon cinnamon powder
2 teaspoons cane sugar
1 teaspoon white vinegar
1 clove (smash)
1 lemongrass chopped
2 cm of galanga
80 g coconut milk
60 g water
2 chicken breasts
Peel the lemongrass and cut 7 cm stem from the base, remove the base and the top, cut into pieces
Put all ingredients except chicken into the Cook Expert stainless steel bowl
Run EXPERT / 1 min / SPEED 15 / 0° 
(Do not use the plastic bowl for this like me...)
Cut the chicken breasts into pieces and pour the marinade over the chicken pieces in a bowl and set aside overnight or at least 4 hours in the refrigerator.
Or you could use a vacuum sealer and marinade for 30 minutes only 😉
PEANUT SAUCE

2 tablespoons massaman curry paste or red curry paste
320 g coconut milk
75 g roasted peanuts
15 g toasted white sesame seeds
2 tablespoons fish sauce
30 g palm sugar
2 or 3 tablespoons tamarind concentrate
Put the roasted peanuts and sesame seeds in the mini bowl
Run ROBOT / SPEED 13 
Mix finely, but don't mix for too long or you'll get peanut/sesame butter...
Put 60 g coconut milk into the Cook Expert stainless steel bowl
Run EXPERT / 10 min / SPEED 1A / 110 °  (remove the cap)
Add massaman curry or red curry
Run EXPERT / 10 min / SPEED 1A / 110 °  (without cap)
Add remaining coconut milk, fish sauce, tamarind sauce, palm sugar and chopped peanuts
Run EXPERT / 30 min / SPEED 1A / 105 °  (without cap)
ASSEMBLE
Stainless steel skewers
Skewer the chicken pieces onto stainless steel skewers
Grill for 5 minutes per side on the barbecue
Serve immediately
Enjoy!