Here is a new recipe inspired by Thai food, I chose burbot, but you can use any fish you like, chicken or even pork ... The massaman curry is one of my favorite ... it is very fragrant and not so spicy, perfect for the whole family.
Here, we are serving this with jasmine rice.
I used the XL dough blade for the recipe, but it is not necessary, I was already making this recipe without and I also give you the method with the universal blade.
Made with the Cook Expert Magimix.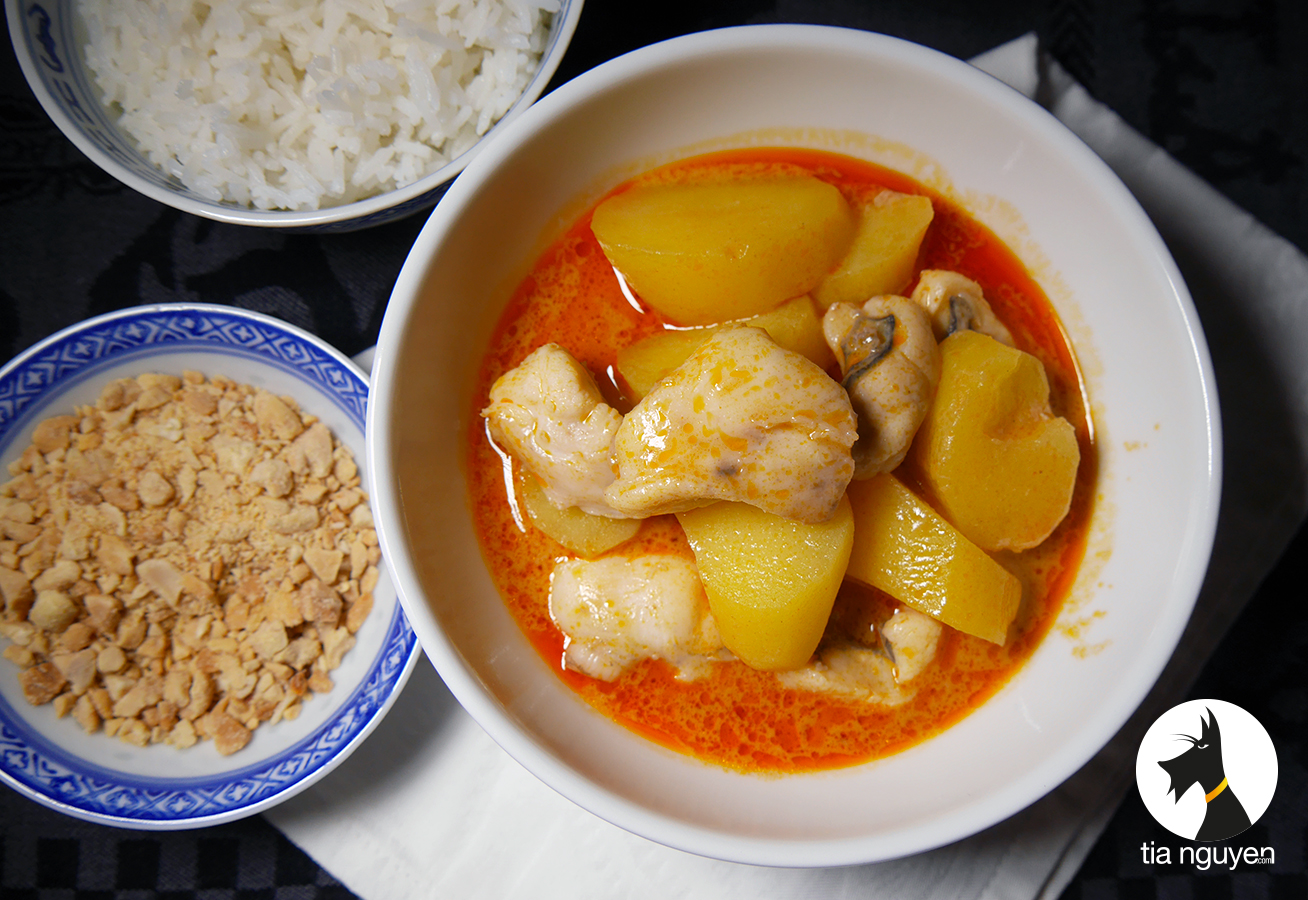 INGREDIENTS
400 g burbot cheeks
400 g coconut milk
50 g massaman curry
1 teaspoon of salt
40 g palm sugar
1 tablespoon of nuoc mam
2 tablespoon tamarind concentrate
6/8 potatoes (small)
1 onion
30 g crushed peanuts
100 g water
Peel the potatoes and cut them in half
Peel the onion and cut into quarter
Cut the burbot into pieces of about 3 / 4cm
Chop the palm sugar
Pour 100 g of coconut milk into the stainless steel bowl with the XL dough blade
Run EXPERT / 10 min / SPEED 1A / 110°C 
Add massaman curry
Run EXPERT / 5 min / SPEED 3 / 120°C 
Add the remaining coconut milk, palm sugar, nuoc mam and tamarind concentrate
Run EXPERT / 1 min / SPEED 3 / 110°C 
Add potatoes and onions
Run EXPERT / 15 min / SPEED 1A / 113°C 
Add the pieces of burbot
Run EXPERT / 10 min / SPEED 1A / 110°C 
Finally add the peanuts
Run EXPERT / 1 min / SPEED 1A / 110°C 
Serve immediately
With the universal blade
Pour 100 g of coconut milk into the Cook Expert stainless steel bowl
Run EXPERT / 10 min / SPEED 1A / 110°C 
Add massaman curry
Run EXPERT / 5 min / VIT 3 / 120°C 
Add the remaining coconut milk, palm sugar, nuoc mam and tamarind concentrate
Run EXPERT / 1 min / VIT 3 / 110°C 
Add potatoes and onions
Run EXPERT / 10 min / SPEED 1A / 110°C 
Run EXPERT / 15 min / SPEED 0 / 110°C 
Add the pieces of burbot
Run EXPERT / 5 min / SPEED 0 / 120°C 
Finally add the peanuts
Run EXPERT / 1 min / SPEED 1A / 110°C 